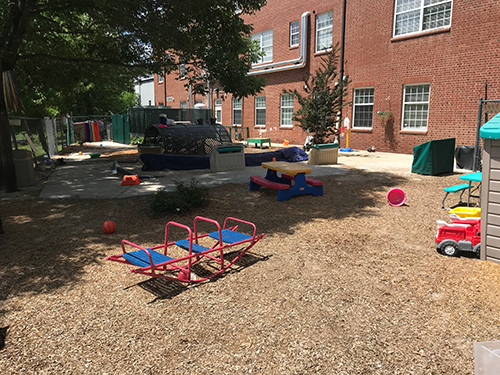 Yates Child Development Center
Yates Child Development Center
2819 Chapel Hill Road
Durham, NC 27707
Click here to view a map
Phone: 919-489-5760
Email: juneatyatescdc@gmail.com
Website: Yates Child Development Center website
Description
Yates Baptist Child Development Center is a 5 star, NAEYC accredited and Eco-Healthy Child Care Facility. We have been in operation more than 50 years. Our mission is to provide high quality early childhood education in a loving and supportive Christian environment. We aim to ensure that our environment is stimulating, yet relaxed, and where each child can experience acceptance, love, and success. We nurture the development of the "whole child" physically, mentally, socially, emotionally and spiritually. We have been open throughout the pandemic and continue to practice all recommended health and safety protocols to keep our children, staff and families safe.
Hours: 7:30am-5:30pm
Hours/Day Included as ''Full Time:''
Meals Included? Yes
Afterschool Care? No
NAEYC Accredited: Yes
License Number: 3250912
NC State DHS Rating:





(All facilities are rated by the NC Division of Child Development.)
Tuition Costs

Infants: $1480/mo.
Toddlers: $1380/mo.
Two-Year Olds: $1280/mo.
Three-Year Olds: $1225/mo.
Four-Year Olds: $1175/mo.

Child/Teacher Ratio

Infants: 4:1
Toddlers: 5:1
Two-Year Olds: 8:1
Three-Year Olds: 9:1
Four-Year Olds: 9:1
Special Needs Support?

Faith-Based Programming?
Our center is faith-inspired. We make an effort to express gratitude to God for life's blessings (including food!), and to incorporate Bible thoughts when they are relevant to the child's experience.
Enrichment Activities?
Biweekly music as part of the tuition. church leaders offer regular enrichment including singing with guitar, story time and mindfulness.
Additional Notes:
We hope to begin offering those again once it is safe to do so. Previously, we have offered the following types of enrichment opportunities for three and four year olds for an additional fee- Lionheart Fitness, Soccer Shots, Science, Art, Martial Arts, Spanish, Tumblin'Tots.