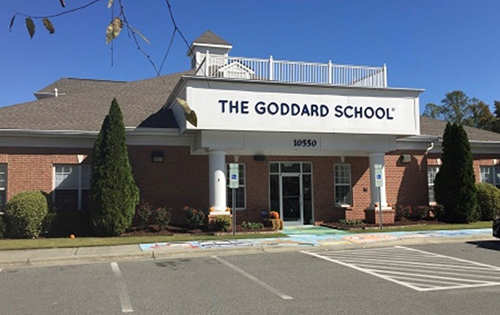 The Goddard School, Raleigh (Brier Creek)
The Goddard School, Raleigh (Brier Creek)
10550 Little Brier Creek Lane
Raleigh, NC 27617
Click here to view a map
Phone: 919-572-0678
Email: raleigh1nc@goddardschools.com
Website: The Goddard School, Raleigh (Brier Creek) website
Description
Goddard curriculum is based on STEAM and is a play-based learning center. One of the largest preschool franchises in the country. The goal is to develop the love for learning in the children and prepare them for life.
Hours: 7 a.m.-6 p.m.
Hours/Day Included as ''Full Time:''
Meals Included? No
Afterschool Care? No
NAEYC Accredited: No
License Number: 92003582
NC State DHS Rating:





(All facilities are rated by the NC Division of Child Development.)
Tuition Costs

Infants: $1682/month
Toddlers: $1593/month
Two-Year Olds: $1482/month
Three-Year Olds: $1393/month
Four-Year Olds: $1243/month

Child/Teacher Ratio

Infants: 4:1
Toddlers: 5:1
Two-Year Olds: 8:1
Three-Year Olds: 9:1
Four-Year Olds: 12:1
Special Needs Support?
Support provided on a case by case basis. Therapists welcome as needed.
Enrichment Activities?
Soccer Shots - Additional Fees Tap n'tumble - Additional Fees Spanish
Discount?
Duke families receive 5% off monthly tuition.