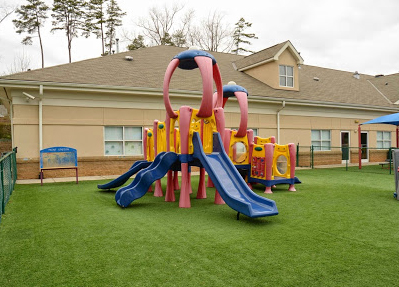 KinderCare Learning Center
KinderCare Learning Center
6560 Tryon Road
Cary, NC 27518
Click here to view a map
Phone: 919-854-1515
Email: eastcary@kindercare.com
Website: KinderCare Learning Center website
Description
Facilities & Security: Age specific playgrounds, splash pad, astroturf areas, gym, entry door code system, check in/check out computer system.
Hours: 7 a.m - 6 p.m.
Hours/Day Included as ''Full Time:''
Meals Included? Yes
Afterschool Care? Yes
NAEYC Accredited: No
License Number: 92002787
NC State DHS Rating:





(All facilities are rated by the NC Division of Child Development.)
Tuition Costs

Infants: $335/week
Toddlers: $317/week
Two-Year Olds: $288/week
Three-Year Olds: $263/week
Four-Year Olds: $263/week

Child/Teacher Ratio

Infants: 4:1
Toddlers: 6:1
Two-Year Olds: 9:1
Three-Year Olds: 10:1
Four-Year Olds: 13:1
Enrichment Activities?
Soccer Shots, Supper Sports, Creative Movement/Dance (all require an additional fee)
Discount?
10% discount
Additional Notes:
Diapers and wipes included in tuition for infants, toddlers and twos. The Rainbow Referral program is designed to provide current families a benefit when referring other families to Rainbow Child Care Center. Please visit our website for complete details of this program.