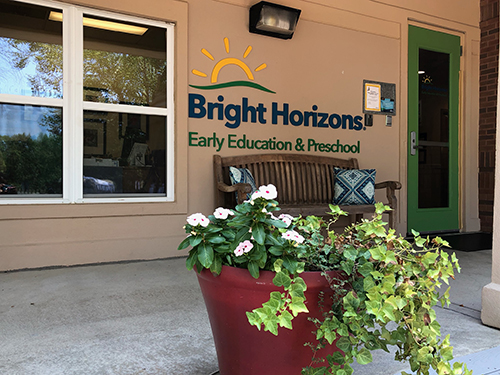 Bright Horizons at Raleigh Corporate Center
Bright Horizons at Raleigh Corporate Center
800 Corporate Center Drive
Raleigh, NC 27607
Click here to view a map
Phone: 919-852-0509
Email: rcc@brighthorizons.com
Website: Bright Horizons at Raleigh Corporate Center website
Description
Welcome to Bright Horizons at Raleigh Corporate Center, a Great Place for a Childhood! We are here to provide your child with a strong foundation for future success in school ... and beyond. Our dramatic play area helps children take on new roles and develop social skills; our library and reading nook foster a love for books; and our movement zone encourages physical activity. Our teachers extend educational opportunities outside the classroom and motivate children to explore the natural world with a variety of open-air learning spaces -- an outdoor science laboratory, mud kitchens, gardens on every playground, sledding hills, a gathering courtyard and more.
Hours: 7 a.m. - 6 p.m.
Hours/Day Included as ''Full Time:''
Meals Included? Yes
Afterschool Care? Yes
NAEYC Accredited: Yes
License Number: 92000860
NC State DHS Rating:





(All facilities are rated by the NC Division of Child Development.)
Tuition Costs

Infants: $1860/month
Toddlers: $1830/month
Two-Year Olds: $1710/month
Three-Year Olds: $1490/month
Four-Year Olds: $1485/month

Child/Teacher Ratio

Infants: 4:1
Toddlers: 5:1
Two-Year Olds: 6:1
Three-Year Olds: 9:1
Four-Year Olds: 10:1
Special Needs Support?
Therapist provided by arranged services are welcome. We will make space and time available so that therapists can teach our teachers what special care needs to be addressed.
Enrichment Activities?
Due to COVID-19 practices, none at this time.
Additional Notes:
The registration fee of $150 is waived, and there is waitlist priority for Duke families.