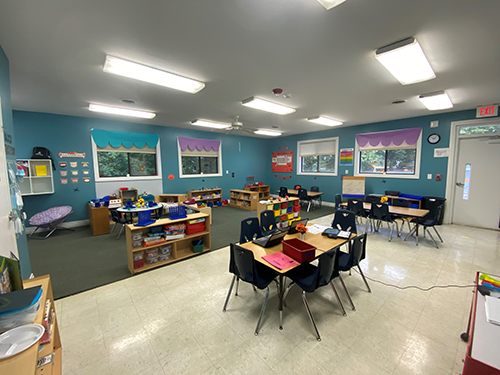 Cary Heights KinderCare
Cary Heights KinderCare
8050 Chapel Hill Rd
Cary, NC 27513
Phone: 919-469-0252
Email: 086020@kindercare.com
Website: Cary Heights KinderCare website
Description
Hours: 7:00 am - 6 pm
Hours/Day Included as ''Full Time:''
Meals Included? Yes
Afterschool Care? Yes
NAEYC Accredited: No
License Number: 92003520
NC State DHS Rating:




(All facilities are rated by the NC Division of Child Development.)
Tuition Costs

Infants: $330/wk
Toddlers: $320/wk
Two-Year Olds: $285/wk
Three-Year Olds: $260/wk
Four-Year Olds: $260/wk

Child/Teacher Ratio

Infants: 5:1
Toddlers: 6:1
Two-Year Olds: 9:1
Three-Year Olds: 10:1
Four-Year Olds: 13:1
Special Needs Support?

Discount?
10% discount