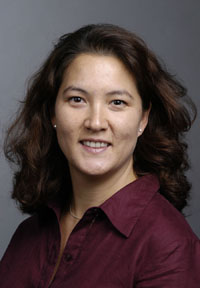 G. Sujin Pak, Ph.D.
Title: Assistant Research Professor of the History of Christianity and Associate Dean for Academic Programs
Location:
Senior Management Area: Divinity School
Class Year: 2014
Bio:
Professor Pak specializes in the history of Christianity in late medieval and early modern Europe. Her teaching, research and writing focus upon the theology of the Protestant reformers, the Protestant Reformation and the Jews, women and the Reformation, and the history of biblical interpretation.

Professor Pak is a United Methodist layperson with active roles as a teacher and lay preacher in the United Methodist Church. She taught at Garrett-Evangelical Theological Seminary (2003-2008). Professor Pak has a book titled The Judaizing Calvin: Sixteenth-Century Debates over the Messianic Psalms published with Oxford University Press in 2010, as well as several articles in historical and religious journals. Her current research project studies the shifting views of prophecy and uses of Old Testament prophecy in the Reformation era.