Goal: Incorporate sustainability into the depth and breadth of every student's experience by including core concepts of sustainability in every applicable field and research opportunity and by using the campus as a living laboratory for sustainability.
Sustainability Competitions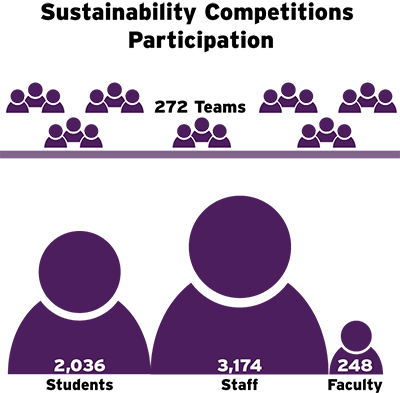 Since 2012, Sustainable Duke has held four sustainability competitions, including three years of the Green Devil Smackdown, which focused on topics including energy, water, food and waste. Most recently the Unpark Yourself Challenge promoted alternative transportation in partnership with Parking & Transportation in spring 2015.
These competitions have drawn on team spirit, gamification, and incentives to engage a new campus audience in Duke's sustainability efforts and introduce them to sustainability actions and resources.
Social media has played a large role in these competitions with an outpouring of enthusiastic participation on Facebook, Twitter, and Instagram.
Education
Growth in the percentage of students graduating from programs with sustainability learning outcomes at Duke remains encouraging, with 39% of students exposed to sustainability curriculum in 2014 compared to 28% in 2010.
In fiscal year 2015, 409 courses focused on or related to sustainability were offered at Duke across 47 departments.
The Trillium Project guides faculty as they explore ways to integrate sustainability into their courses. As of FY15, 70 Duke Trillium Fellows have completed the workshop.