Energy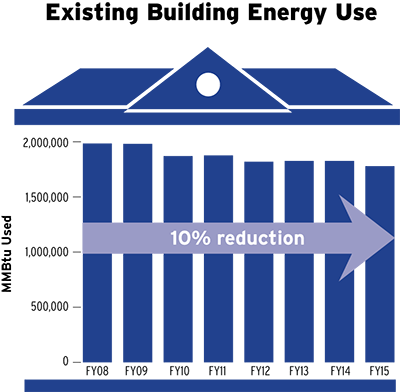 Goal: Achieve a 15% reduction in energy in existing buildings by 2030.
Overall, energy greenhouse gas emissions are down 33% from a 2007 baseline. Existing building energy use for buildings constructed prior to 2008, is down 10% from the Climate Action Plan baseline.
Facilities Management engineered and implemented a comprehensive HVAC re-commissioning effort in the Fitzpatrick CIEMAS building with an estimated annual savings of $130,000, and started planning for similar projects in the French Family Science Center for FY16. This and other projects continued to drive down existing-building energy consumption.
Buildings
Goal: Ensure all new construction and major renovations comply with Duke's Sustainable Building Policy and meet campus goals for energy and water efficiency.
Duke has 30 LEED™ certified buildings and 9 buildings registered for future certification as of June 2015. This represents 29% of Duke University's total square footage. In spring 2015, the Board of Trustees approved an updated Duke Sustainable Building Policy, reiterating commitment to high performance construction on campus and prioritizing energy and water efficiency goals for building projects.
Natural Resources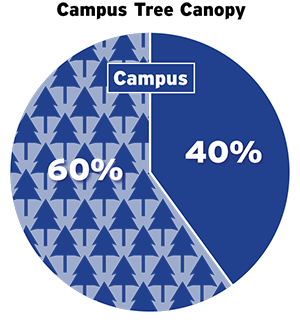 Goal: Ensure that buildings, landscapes and natural areas are developed and sustained to create a campus community that conserves natural resources, restores environmental quality and protects biodiversity.
Duke has developed a draft framework for evaluating campus natural landscapes on their ecological, programmatic, cultural, pedagogical, and aesthetic value.
In spring 2015, the Duke Board of Trustees voted to officially recognize the importance of two natural areas on campus, Anderson and Chapel Woods. These areas are now protected as important resources for education, conservation and aesthetic value.