Food
Goal: Finalize definition of sustainable food at Duke, assess baseline efforts, and develop targets for sustainable food procurement in campus dining facilities.
This past year, Duke Dining hired its first Sustainability & Quality Control Manager, updated its Sustainability Plan, and established a 2017 baseline for sustainable procurement efforts. This progress is included in the first Dining report on the ambitious sustainable procurement program. In recognition of these efforts, Duke Dining recently received the Gold Award in Sustainable Procurement from the National Association of College and University Dining Services, and the Marketplace received a 3-Star Green Restaurant Certification from the Green Restaurant Association.
In FY17, due to the addition of a full-time production manager, the Duke Campus Farm (DCF) grew more than 13,000 pounds and 40 varieties of produce for campus dining halls and Community Supported Agriculture (CSA) members. The 800+ volunteers and 12-member farm crew contributed indispensable thought and labor in the field.
In January 2017, DCF Program Director Dr. Saskia Cornes became an assistant professor of the practice at the John Hope Franklin Humanities Institute. She taught an introductory seminar on Sustainable Food Systems and co-taught The Environment in Literature, Law & Science with Profs. Dan Richter and Priscilla Wald.
Transportation
Goal: Achieve a 5% reduction from the 2013 baseline in single occupancy vehicle (SOV) trips by all Duke employees by 2018. Decrease the campus drive-alone rate to 45% by 2050.
Duke has worked diligently to influence employee decisions on how they commute to campus. However, drive-alone rates continue to fluctuate as external factors such as gas prices and regional transportation options influence these numbers. In FY17, drive-alone rates remained stable at 74%.
Parking and Transportation's efforts to provide robust alternative transportation options continued in FY17 with enhanced occasional parking options, development of a Bicycle and Pedestrian Plan for the University, as well as installations of new electric vehicle charging stations, bringing the total to 19 on campus.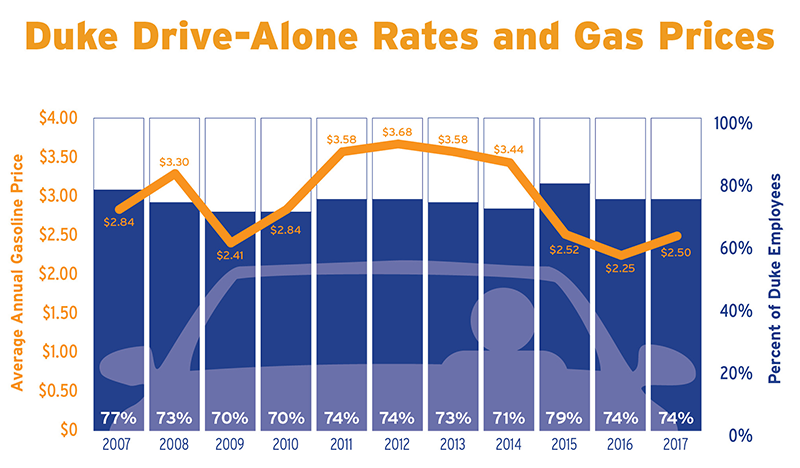 Procurement
Goal: Revise Duke's current environmentally preferable purchasing policy to make it more accessible and useful for campus purchasers while exploring opportunities to further green Duke's supply chain.
As part of Duke's Supplier Diversity efforts, Procurement Services partnered with the Office of Institutional Equity to develop training and tools to better educate the Duke community to identify and utilize local woman-owned, minority-owned, and veteran-owned businesses. Procurement also worked with Housing and Residence Life on a comprehensive dorm room furniture RFP to identify a cost effective option for a small business with a local presence to supply sustainable, USA-made furniture for upcoming projects.
Waste and Recycling
Goal: Create meaningful targets for waste diversion and reduce the overall campus waste stream.
Since FY13, Duke Surplus has diverted over 60,000 items from the landfill and decreased institutional costs through a donation-only business model. In FY17, an education effort to increase departmental awareness about the program has resulted in a 46% increase in the internal utilization rate over the previous year.
Duke Sanitation and Recycling continued to partner with departments and students across campus to implement a successful zero-waste football season and decrease use of disposables on campus.